THE CHALLENGE
There is no greater threat to our water supplies than climate change
Climate change is projected to have far-reaching implications on how California and the Sacramento region manage water supplies for both people and the environment.
Our Water Supplies
The Sacramento region's water system was envisioned more than a century ago to protect our community from devastating flooding and to provide reliable drinking water supplies.
This water system relies on three reservoirs: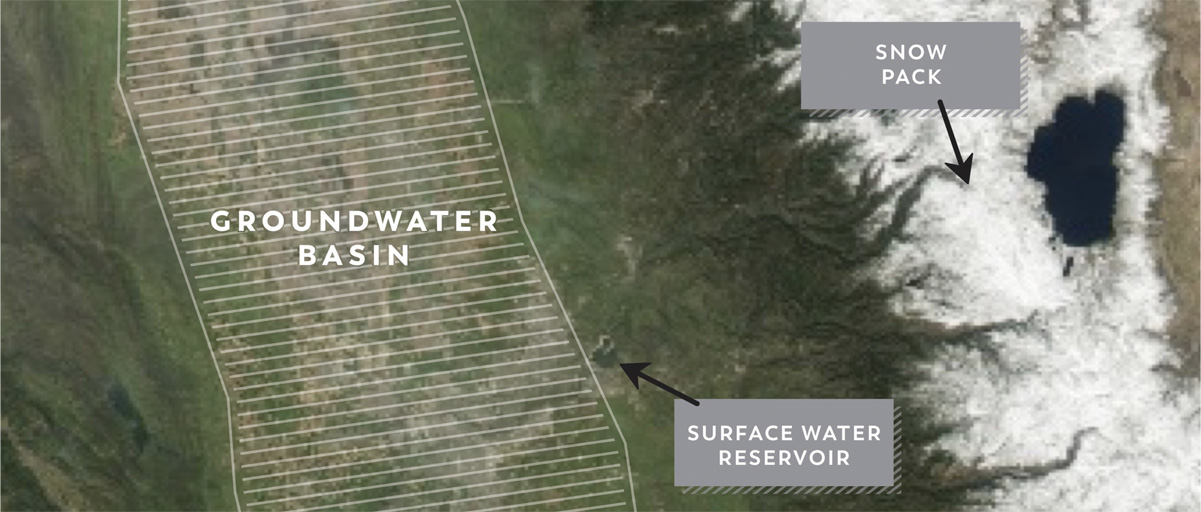 Snowpack
—our frozen reservoir—provides a third of our water supplies. The snowpack can store enough water to fill Folsom Reservoir in a normal year.
Folsom Lake
—our above-ground reservoir—captures snowmelt and protects our community from flooding. The reservoir also provides water for the fish and wildlife in the Lower American River and Delta. It is managed by the U.S. Bureau of Reclamation and is an important part of the statewide water supply system.
The vast groundwater aquifer.
This is the reservoir you cannot see that lies beneath our cities and towns, agricultural regions, and wildlife areas. Aquifers in our region already contain large volumes of groundwater but they also have the capacity to store more, enabling local water providers to store significant volumes of additional water supplies. Currently, the unused capacity in our aquifers is equal to twice the volume of Folsom Reservoir.
Historically, this system has worked well for the Sacramento region.
But climate change poses new and severe stressors.
Climate Change in the News
"Weather whiplash," "atmospheric rivers," "severe drought"—if you live in California, this is probably not the…
Summer is approaching in California, and warmer temperatures have been melting the massive snowpack dumped…
The shadows were long and the wind across the flatlands fierce as trucks and ATVs…