Innovative Strategies for Safety and Resilience
Climate change will change the way water flows into our community. More rain than snow will fall earlier in winter. Folsom Reservoir already has a limited capacity relative to the watershed it serves, with seasonal snowpack helping to regulate runoff for water supply. The U.S. Bureau of Reclamation's flexibility in operating Folsom Dam to meet all authorized project purposes is constrained by its small size, the competing mandates for flood management, and regulatory flow and quality requirements.
These constraints are forecasted to increase further as we continue to experience the "new normal" of a changing climate.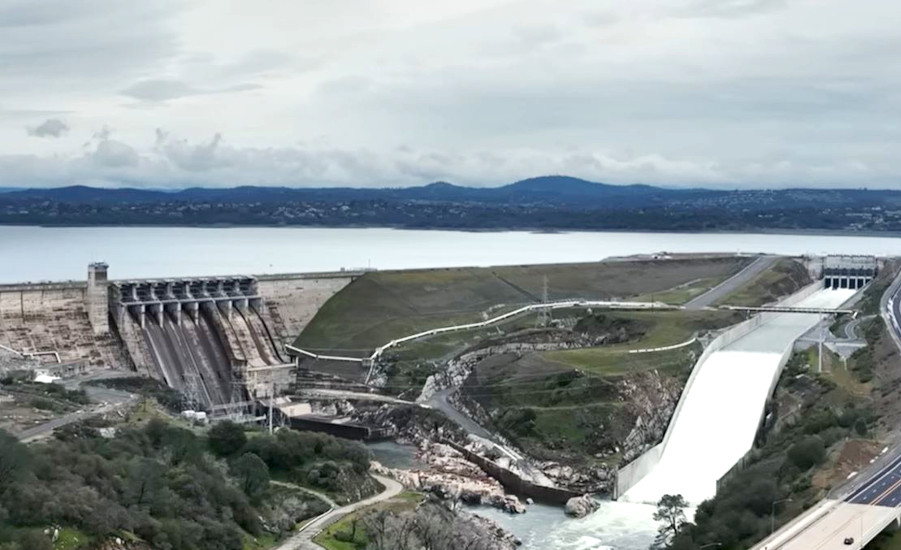 Photo Courtesy of Department of Water Resources
The Regional Water Authority and local water providers partner with the Sacramento Flood Control Agency (SAFCA) to continually explore strategies to capture more of the excess flood water when available as a strategy for creating more reliable water supplies and protecting our community from floods.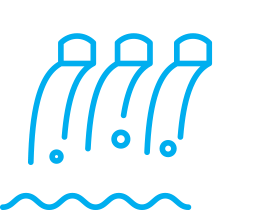 Upgrading flood control
infrastructure throughout the Sacramento region with significant flood improvement upgrades delivering a nearly 300-year level of flood protection to residents and businesses in the Sacramento area through successfully implementing 70 miles of levee upgrades along the Sacramento and American Rivers and securing over $4 billion in funding for improving infrastructure and operations of Folsom Dam and Yolo Bypass in the past decade. In recent years, Folsom Dam has seen the construction of a new spillway, which helps release more water quickly, and raising of the main dam and surrounding dikes by 3.5 feet.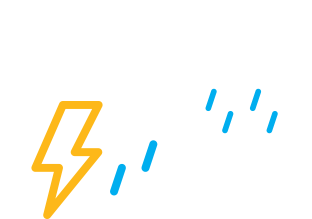 Watershed – Forecast Informed Reservoir Operation (FIRO) to enhance Folsom and Upstream Reservoir Operations. Integrated with forest management and other watershed actions, the American River Watershed FIRO is included in Reclamation's 2022 American River Basin Study as part of the climate adaptation strategies. FIRO is an innovative approach that utilizes advanced weather forecasting and real-time data to optimize reservoir operations. This enables better decision-making regarding water releases and storage, taking into account forecasted precipitation and moisture content of the snowpack, to manage flood risk more effectively. 
For the American, it will add up to 300,000 acre-feet of flood storage upstream of Folsom Dam by implementing facility modifications at upstream reservoirs and will reduce peak flood flows downstream, enhance dam safety, improve water supply reliability and operational flexibility, and improve temperature management and habitats for listed species in the Lower American River.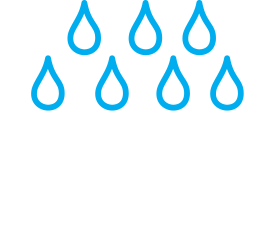 Using Watershed FIRO linked to managed aquifer recharge (MAR), FIRO can be the catalyst to unlock additional value and enhance the benefits of planned infrastructural improvements. Watershed FIRO implementation on the American enables upstream reservoir facility operators to better coordinate with Folsom operators for additional flood protection, but also promote better managed aquifer recharge with a portion of the winter flood volumes conserved through FIRO. For example, spreading grounds and high-capacity recharge channels in agricultural land between Rancho Cordova and Elk Grove can be used to refill groundwater aquifers as another buffer against flood and drought.
With improvements to the operations of upstream reservoirs and downstream levees and channels, these actions can provide 500-year flood protection for the Sacramento region and additional water supply benefits for the USBR at Folsom Reservoir.